OPEN HOUSE SALE
JUNE 3rd and 4th
If you are in the area, please make plans to stop by. You will see thousands of daylilies in bloom and catch some good sale prices, too. This event is the highlight of our season. Please call if you need additional information or recommendations on local accommodations.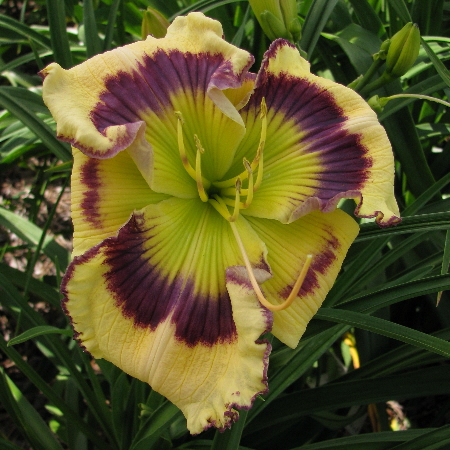 ANGEL IN THE MORNING
$40 DF Sold Out
G. Tanner '12
Dip, 6", Dor, EM-Re, 26", 20 buds, 3 way branching
(ARTISAN'S TOUCH X LAVENDER BLUE BABY)
Hybridizers and collectors alike have been waiting for this beauty to be introduced. Creamy yellow very flat bloom with a grape purple eye, matching edge and a very large bright green throat. The eye almost looks like it is sculpted from the purple veining running into the throat. The large throat is extended onto the sepals with just a hint of the grape purple eye. Right up there with TRADED TO THE YANKEES as one of Gene's best dips. Diamond dusted and pod fertile only.