OPEN HOUSE SALE
JUNE 3rd and 4th
If you are in the area, please make plans to stop by. You will see thousands of daylilies in bloom and catch some good sale prices, too. This event is the highlight of our season. Please call if you need additional information or recommendations on local accommodations.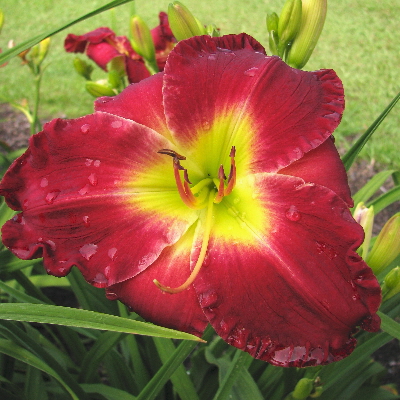 BONFIRE HEART
$100 DF Sold Out
C. DOUGLAS 2015
Dip, 6", Sev, EM-Re, 32", 32 buds, 4-5 way branching, Frag
(CANDY APPLE TOWER X JIM COOPER MEMORIAL)
The large apple green throat is a striking contrast to the red wine ruffled petals on this widely branched diploid. Registered at 30 buds, but will have over 40 when established. Diamond Dusted. Fertile both ways. Makes a great parent!