OPEN HOUSE SALE
JUNE 3rd and 4th
If you are in the area, please make plans to stop by. You will see thousands of daylilies in bloom and catch some good sale prices, too. This event is the highlight of our season. Please call if you need additional information or recommendations on local accommodations.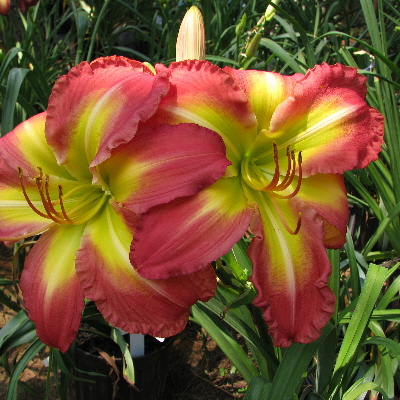 BOSS HOGG
$125 Sold Out
H. DOUGLAS 2015
Dip, 7.5", Dor, M-Re, 27", 22 buds, 3 way branching
(TROPICANA TREAT X ROSE F KENNEDY)
We knew this unusual form was going to be a special flower from it's first bloom. Dubbed the BOSS of the garden when it first bloomed in 2010, the name BOSS HOGG stuck. Slightly ruffled coral petals with a lighter watermark that surrounds an extremely large bright green throat. Well branched and lots of buds for such a large flower. Nice thick scapes to hold them up. Producing some very nice seedlings! Diamond dusted. Fertile both ways. The waiting is list is long, so extremely limited. Better order fast!