OPEN HOUSE SALE
JUNE 3rd and 4th
If you are in the area, please make plans to stop by. You will see thousands of daylilies in bloom and catch some good sale prices, too. This event is the highlight of our season. Please call if you need additional information or recommendations on local accommodations.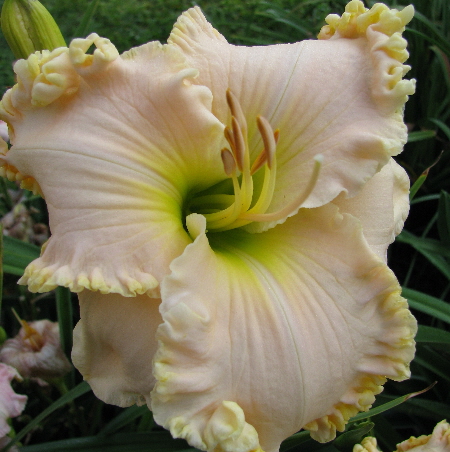 *BROWNS FERRY ROYALTY
$70 DF
Winner of the AHS Honorable Mention in 2014
(DOUGLAS, 2011)
Tet, 7", Dor, ML-Re, 31", 26 buds, 5 way branching
(BROWNS FERRY SHEER MAGIC X THELMA DOUGLAS)
I knew before this one bloomed that is was a THELMA DOUGLAS baby by looking at the size of the plant and scapes. One of the first keepers from THELMA DOUGLAS, this ice pink is very triangular with a pale yellow lacy piecrust edge and wide petals. Yellow veining and a yellow throat are set off by diamond dusting. It has very heavy substance, which opens well and makes large fans with dark green foliage. Being a dormant, it has some of the prettiest foliage in the garden. Making lots of pretty babies. Long bloom season. Fertile both ways.