OPEN HOUSE SALE
JUNE 3rd and 4th
If you are in the area, please make plans to stop by. You will see thousands of daylilies in bloom and catch some good sale prices, too. This event is the highlight of our season. Please call if you need additional information or recommendations on local accommodations.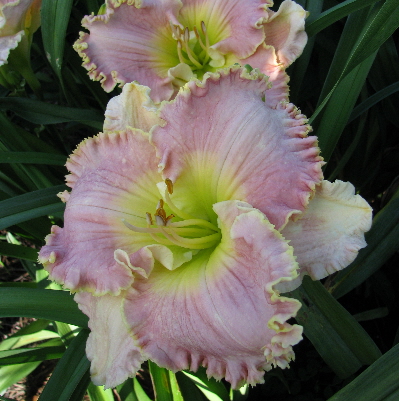 *CYNTHIA LUCIUS
$100 DF
C. DOUGLAS 2015
Tet, 6.5", Evr, E-Re, 24", 18 buds, 3way branching
(JACKIE KENNEDY ONASSIS X SONGWRITER)
This large bitone has wide heavily ruffled petals that are a light pink with a lavender blush. Even the sepals have some ruffles! Nice yellow to green throat provides a beautiful accent on a flower that opens well every day. A hardy evergreen that never gets mushy and survived one of the coldest winters on record in Columbus, Ohio, SEE PICTURE BELOW. A gorgeous flower for a lovely lady and good friend! Below is a picture of the flower in the Lucius garden the summer of 2014. Prettiest seedling of 2014 is out of Cynthia Lucius. Diamond dusted. Fertile both ways.