OPEN HOUSE SALE
JUNE 3rd and 4th
If you are in the area, please make plans to stop by. You will see thousands of daylilies in bloom and catch some good sale prices, too. This event is the highlight of our season. Please call if you need additional information or recommendations on local accommodations.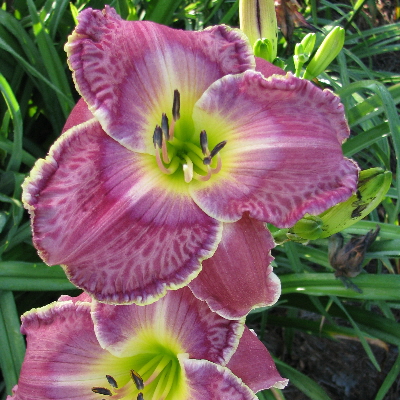 *DR FRECKLES MR HYDE
$80 DF
H. DOUGLAS 2015
Tet, 6", Dor, M-Re, 32", 28 buds, 5 way branching
(ASHWOOD SMOKEY JOE X CHARLES CAN'T HAVE IT)
Dr. Freckles is the first look to appear in the morning, PICTURED ABOVE. Starting as a grayish purple with grape purple freckles and a gray purple watermark. By noon, Mr. Hyde has taken over, the freckles are gone leaving a dark purple flower with a lighter watermark, SEE PICTURE BELOW. Creamy midribs and a creamy ruffled edge finish the look. Tall scapes with candelabra branching and lots of bloom! Fun to watch through the day. Diamond dusted. Fertile both ways.