OPEN HOUSE SALE
JUNE 3rd and 4th
If you are in the area, please make plans to stop by. You will see thousands of daylilies in bloom and catch some good sale prices, too. This event is the highlight of our season. Please call if you need additional information or recommendations on local accommodations.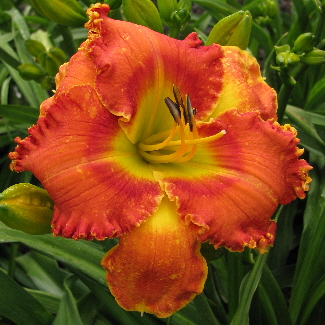 DUSTY DIRT ROAD
$40 DF
(G. TANNER, 2011)
Tet, 6", Sev, E-Re, 25", 16 buds, 3-way branching
(SOMETHING MARVELOUS X WALKING IN BEAUTY)
Not so sure how to describe this orange with a red halo. Yes, it's orange, but not like any orange we have ever seen. The color is quite distinct. There is a double ruffled edge, a red that matches the halo and a golden yellow wire edge after that. Red veining and a triangular green throat complete the look. Fertile both ways.