OPEN HOUSE SALE
JUNE 3rd and 4th
If you are in the area, please make plans to stop by. You will see thousands of daylilies in bloom and catch some good sale prices, too. This event is the highlight of our season. Please call if you need additional information or recommendations on local accommodations.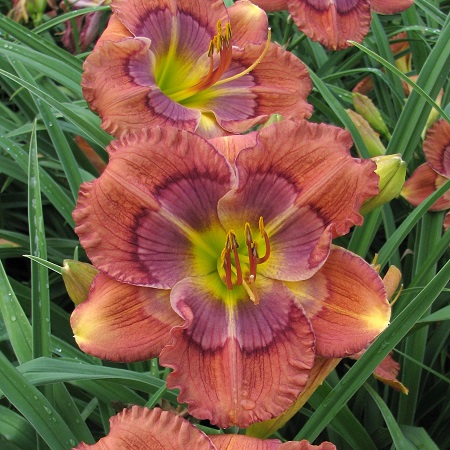 FUDGE IT
$100 DF
H. DOUGLAS 2017
Dip, 5", Evr, EM-Re, 29", 18 buds, 3 way branching, Frag
(FOCUS ON FUSION X KALEIDOSCOPIC INTRIGUE)
Brownish Orange petals with grape veins, large veined grape eye surrounded by dark purple eyeliner. This unusual color puts on quite a show in the garden. Named for my baby sister, Dad always calls her FUDGE IT. Still does! Fertile both ways.