OPEN HOUSE SALE
JUNE 3rd and 4th
If you are in the area, please make plans to stop by. You will see thousands of daylilies in bloom and catch some good sale prices, too. This event is the highlight of our season. Please call if you need additional information or recommendations on local accommodations.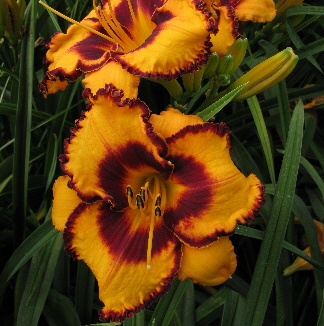 KELSEY McGHEE
DSP
(DOUGLAS, 2011)
Tet, 4 3/4", Sev, EM-Re, 26", 20 buds, 4 way branching
(GAVIN PETIT X PUMPKIN PRINCE)
We have been waiting for 10 year old granddaughter, Kelsey, to pick out her namesake. She was very wishy washy about her decision until she saw this stunning bloom. A golden yellow, almost orange, with a wine eye and edge. The contrast of colors calls from across the garden. The edges are slightly ruffled, the petals slightly pinched. Diamond dusted and fertile both ways.