OPEN HOUSE SALE
JUNE 3rd and 4th
If you are in the area, please make plans to stop by. You will see thousands of daylilies in bloom and catch some good sale prices, too. This event is the highlight of our season. Please call if you need additional information or recommendations on local accommodations.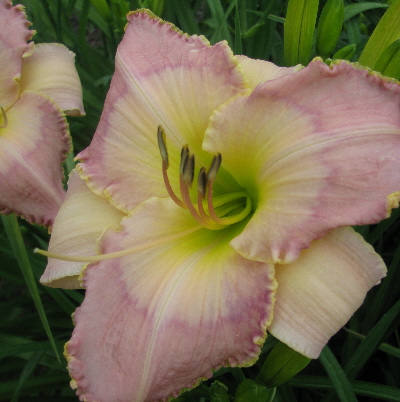 *KISSED BY MOONLIGHT
$50 DF
H. DOUGLAS 2014
Tet 6", Dor, EM-Re, 28", 15 buds, 3 way branching, Frag
(EXOTIC RIPPLES x MILDRED MITCHELL)
With the pale pink watermark surrounded by a lavender pencil edge, this lavender pink bloom looks like it has been KISSED BY MOONLIGHT. The slightly creamy ruffled edge has a lavender layer that matches the pencil edge around the watermark.