OPEN HOUSE SALE
JUNE 3rd and 4th
If you are in the area, please make plans to stop by. You will see thousands of daylilies in bloom and catch some good sale prices, too. This event is the highlight of our season. Please call if you need additional information or recommendations on local accommodations.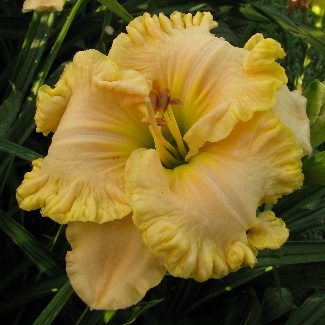 LOVE IS ENOUGH
$26 DF
(DOUGLAS, 2011)
Tet, 5 ½", Sev, M-Re, 27", 16 buds, 3 way branching
(WONDER OF IT ALL X YANKEE PRINCESS)
This very round ruffled butter yellow opens well everyday because of Yankee Princess in its background. Wonder of It All is one of my favorite flowers, but it tends to hang up a bit and I believe this is an improvement on both flowers. It is a recurved butter yellow with a yellow to green throat that is slightly sculpted and will show some pink blush as a halo. Deep yellow piecrust ruffling completes the look. Will probably go dormant up north. Fertile both ways.