OPEN HOUSE SALE
JUNE 3rd and 4th
If you are in the area, please make plans to stop by. You will see thousands of daylilies in bloom and catch some good sale prices, too. This event is the highlight of our season. Please call if you need additional information or recommendations on local accommodations.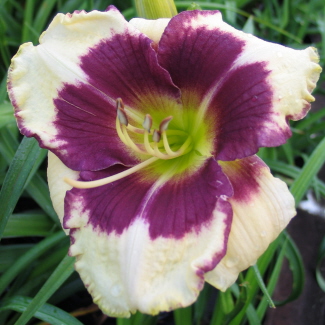 ALBERT'S BLUEBERRY ORCHARD
$16 Garden Pickup Only

G. TANNER '08

TETROPLOID 5 ½", Sev, E-Re, 24", 20 buds
(Kisses Like Wine x Celebration of Angels)

The bold purple eye and picotee on this clear cream yellow daylily reminds us of the blueberries we got at ALBERT'S BLUEBERRY ORCHARD. Mr. Albert Parsons and his wife Marie are respected members of the Georgetown Area Daylily Club and he has the best blueberries.
Fertile both ways.