OPEN HOUSE SALE
JUNE 3rd and 4th
If you are in the area, please make plans to stop by. You will see thousands of daylilies in bloom and catch some good sale prices, too. This event is the highlight of our season. Please call if you need additional information or recommendations on local accommodations.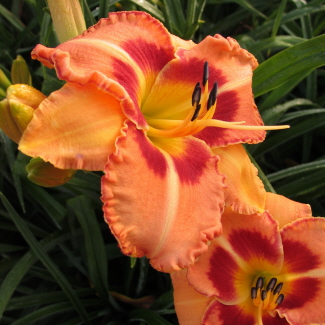 BIG BILL
Winner of the AHS Honorable Mention in 2012
$20 DF
(DOUGLAS, 2007)
TETRAPLOID, 6 1/2" BLOOM, SEV FOLIAGE, E-RE, 32" SCAPES
(MINGO MAGIC X CHERRY VALENTINE)
LARGE AMBER PEACH WITH A LARGE RED EYE AND SMALL RED PICOTEE. LIGHT MIDRIBS WITH A LARGE GOLD THROAT. 4 WAY BRANCHING WITH 22 BUDS. FERTILE BOTH WAYS. NAMED FOR MY FRIEND BILL LAMBERT, WHO SO GENEROUSLY HAS VOLUNTEERED HIS TIME TO THE GARDEN FOR MANY YEARS. WINNER OF AN AHS JUNIOR CITATION AWARD IN 2006.