OPEN HOUSE SALE
JUNE 3rd and 4th
If you are in the area, please make plans to stop by. You will see thousands of daylilies in bloom and catch some good sale prices, too. This event is the highlight of our season. Please call if you need additional information or recommendations on local accommodations.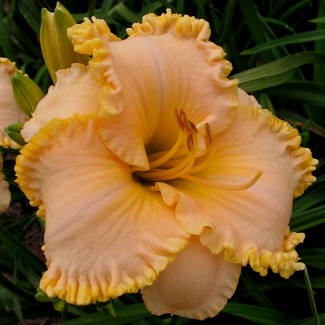 *BROWNS FERRY PEACHES 'N CREAM

Winner of the AHS Honorable Mention in 2011
$30 DF

Douglas '08

TETRAPLOID 6", Dor, E-Re, 28", 26 buds, 5 way branching.
((Ferengi Gold x Ed Brown) x Victorian Lace)

The deeply pleated and layered orange edge really shows off on the light creamy peach daylily. It has an orange throat that radiates onto the petals and matches the edge with a green heart. Very long bloom season starting early and reblooming continuously until late summer Fertile both ways. Early Morning Opener.