OPEN HOUSE SALE
JUNE 3rd and 4th
If you are in the area, please make plans to stop by. You will see thousands of daylilies in bloom and catch some good sale prices, too. This event is the highlight of our season. Please call if you need additional information or recommendations on local accommodations.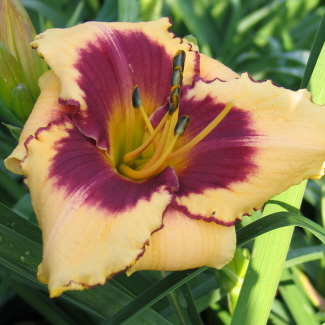 *DOVER PLANTATION
DSP
(DOUGLAS, 2004)
TETRAPLOID, 5" BLOOM, SEV FOLIAGE, EM-RE, 30" SCAPES
(STRAWBERRY PATCH X WISEST OF WIZARDS)
BUTTER YELLOW WITH BURGUNDY MAROON EYE AND MAROON WIRE EDGE. YELLOW TO GREEN THROAT. HEAVY SCAPES HOLD 18-20 BUDS. DOVER PLANTATION DEFINETLY INHERITED THE LONG BLOOMING AND PROLIFIC GROWING HABITS OF STRAWBERRY PATCH. FERTILE BOTH WAYS. FRAGRANT. NAMED FOR A LOWCOUNTRY PLANTATION SOUTH OF GEORGETOWN.