OPEN HOUSE SALE
JUNE 3rd and 4th
If you are in the area, please make plans to stop by. You will see thousands of daylilies in bloom and catch some good sale prices, too. This event is the highlight of our season. Please call if you need additional information or recommendations on local accommodations.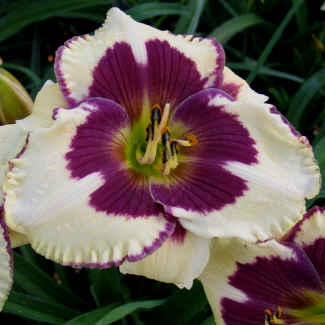 LUCKY LUCY
$20 DF

Douglas '08

TETRAPLOID 5 ¾", Sev, E-Re, 28", 24 buds, 5 way branching.
((Regal Eye x (Bengal Bay x Tet Lavender Blue Baby)) x Celebration of Angels)

Cream with a large bright grape purple eye and edge with inward streaks that fade into the green throuat. Standout color combination in the garden. Chosen and named by a dear daylily friend, Lucille Cook Coker, who helped in the garden for many years and surprised all of us by coming back from a sever illness. Fertile both ways.