OPEN HOUSE SALE
JUNE 3rd and 4th
If you are in the area, please make plans to stop by. You will see thousands of daylilies in bloom and catch some good sale prices, too. This event is the highlight of our season. Please call if you need additional information or recommendations on local accommodations.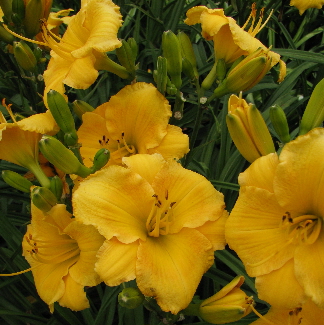 MEME'S SUNSHINE
$24 DF
(H. DOUGLAS, 2011)
Tet, 4 ¼", Dor, EM-Re, 27", 22 buds, 4 way branching
(COYOTE MOON X TENDER SHEPHERD)
This golden yellow puts on quite a long show. Lots of bloom, instant rebloom and even a 3rd set of scapes here in South Carolina. The yellow is offset by an orange throat with a darker orange halo and the slightest of wide ruffled petals. This is a garden plant at its best. In a clump it can be seen from across the garden. Fertile both ways.