OPEN HOUSE SALE
JUNE 3rd and 4th
If you are in the area, please make plans to stop by. You will see thousands of daylilies in bloom and catch some good sale prices, too. This event is the highlight of our season. Please call if you need additional information or recommendations on local accommodations.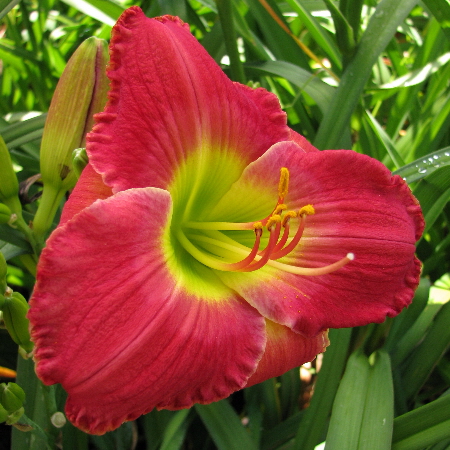 *MURIEL RHEM
$40 DF
C. Douglas '12
Tet, 5 1/4", Evr, EM-Re, 28", 24 buds, 4-5 way branching
(COMPLIMENTARY COLORS X FEAR NOT)
I knew this would be the namesake for my 4th grade teacher, Mrs. Rhem, who was a dear friend of the family. I have been waiting for just the right red flower that reminds me of her beautiful red hair. This bright red with an apple green throat stood out from all the other red seedlings in the field. Slightly ruffled triangular form with a faint watermark. Fertile both ways.