OPEN HOUSE SALE
JUNE 3rd and 4th
If you are in the area, please make plans to stop by. You will see thousands of daylilies in bloom and catch some good sale prices, too. This event is the highlight of our season. Please call if you need additional information or recommendations on local accommodations.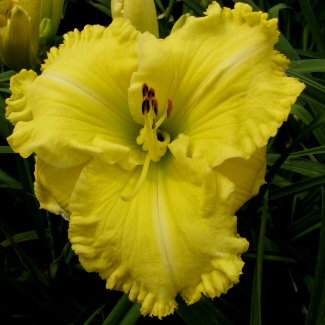 NEON SUNSHINE
$24 DF
(DOUGLAS, 2010)
Tet, 6", SEV, EM-Re, 27", 20 buds, 3 way branching
(Stone Beacon x Lemon Parchment)
No, it doesn't glow in the dark, but this is one of the brightest clean yellows we have seen. Darker yellow veining and edge, cream midribs and a small green throat. The blooms sit nicely above the foliage and the branching is spaced well so that the flowers do not crowd one another.
Fertile both ways.