OPEN HOUSE SALE
JUNE 3rd and 4th
If you are in the area, please make plans to stop by. You will see thousands of daylilies in bloom and catch some good sale prices, too. This event is the highlight of our season. Please call if you need additional information or recommendations on local accommodations.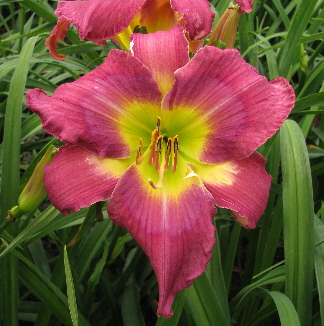 REAL LIFE DRAMA
$24 DF
(H. DOUGLAS, 2011)
Tet, 7 ¼", Evr, EM-Re, 27", Frag, 20 buds, 3- way branching
(NEON RAINBOW X JERRY HYATT)
The bright green triangular throat shines like a beacon on this rose purple flower. The darker watermark and pencil eye give it a dramatic look. Wide well spaced petals help to show the sepals that curl and petals sometimes pinch. Veining and diamond dusting are showy on a flower this large. Needless to say it is striking in a clump. Fertile both ways.