OPEN HOUSE SALE
JUNE 3rd and 4th
If you are in the area, please make plans to stop by. You will see thousands of daylilies in bloom and catch some good sale prices, too. This event is the highlight of our season. Please call if you need additional information or recommendations on local accommodations.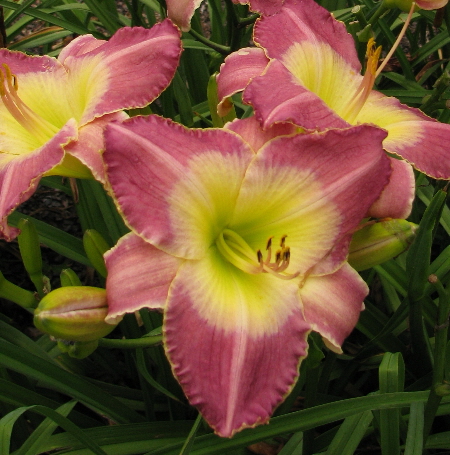 *THE GHOSTS OF BOYFRIENDS PAST
$34 DF
H. Douglas '12
Tet, 5 1/4", Dor, ML-Re, 36", 26 buds, 5-way branching
((MILDRED MITCHELL X RHAPSODY IN TIME) X JIM SPENCER)
Once established in a clump this plant will astound you! You can't help but notice so many blooms on tall, widely branched scapes. Dark lavender bitone, with a watermark that fades into a very large yellow to green throat. There is a darker lavender pencil edge surrounding the watermark, cream midribs and a small yellow slightly ruffled edge. The ghosts of my past will remain nameless. Diamond dusted and fertile both ways.