OPEN HOUSE SALE
JUNE 3rd and 4th
If you are in the area, please make plans to stop by. You will see thousands of daylilies in bloom and catch some good sale prices, too. This event is the highlight of our season. Please call if you need additional information or recommendations on local accommodations.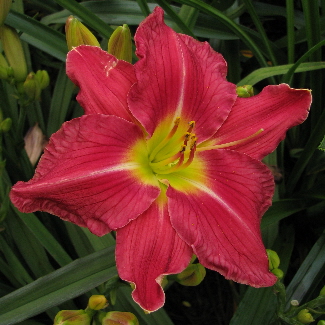 TOO HOT TO ROCK
$20 DF
(G. TANNER, 2011)
Dip, 6", Dor, M-Re, 26", 32 buds, 6 way branching
(ANGEL ROGERS X MARIETTA DREAMER)
It was so hot this summer it was too hot to sit on the front porch and rock, but this daylily was a shining star. A rose red, with a darker halo, veining and twinkle midribs. Twinkle midribs only go to the center of the petal, giving a star appearance. Great branching and bud count. Fertile both ways.