OPEN HOUSE SALE
JUNE 3rd and 4th
If you are in the area, please make plans to stop by. You will see thousands of daylilies in bloom and catch some good sale prices, too. This event is the highlight of our season. Please call if you need additional information or recommendations on local accommodations.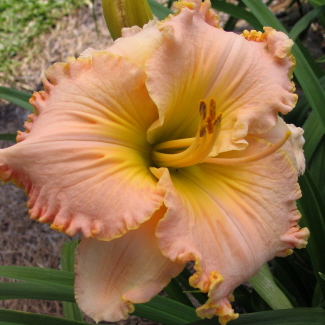 MISS NETTIE
$20 DF
(DOUGLAS, 2009)
Tetraploid 5 ½", SEV, EM-Re, 24", 15 buds, 3 way branching.
((Ferengi Gold x Ed Brown) x Victorian Lace)
Named for a very dear friend in Cincinnati, Nettie Balsamo is 98 years young and truly an inspiration. She grew up in Italy and raised her children there during WWII and captivates us with her stories of the time. She is sharp and spirited and we enjoy visiting her every time we go back to Cincinnati. The flower is a pretty sculpted peach with an orange ruffled edge. Yellow throat and fragrant. Fertile both ways. May go dormant up north.