OPEN HOUSE SALE
JUNE 3rd and 4th
If you are in the area, please make plans to stop by. You will see thousands of daylilies in bloom and catch some good sale prices, too. This event is the highlight of our season. Please call if you need additional information or recommendations on local accommodations.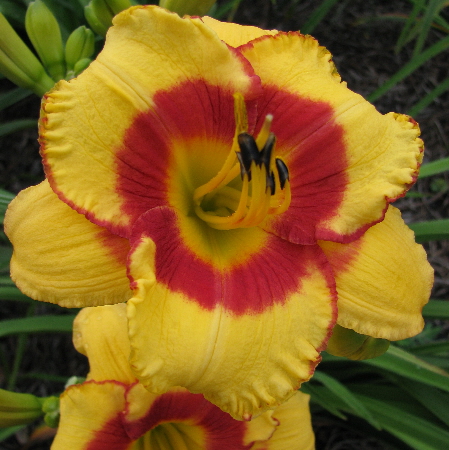 WAITING FOR ALICE
DSP
(G. TANNER, 2006)
TETRAPLOID, 4 ¾" BLOOM, DOR FOLIAGE, ML-RE, 25" SCAPES
(FOOLED ME X BOLD TIGER)
SOFT CREAM GOLD WITH LUSCIOUS LIPSTICK RED EYE. LATE REBLOOM. 3 WAY BRANCHING WITH 22 BUDS. FERTILE. EMO. CLOSE FRIENDS AND FAMILY WILL UNDERSTAND THE SPECIAL MEANING BEHIND THIS DAYLILY'S NAME.