OPEN HOUSE SALE
JUNE 3rd and 4th
If you are in the area, please make plans to stop by. You will see thousands of daylilies in bloom and catch some good sale prices, too. This event is the highlight of our season. Please call if you need additional information or recommendations on local accommodations.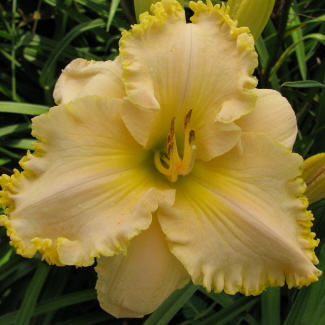 WRAPPED IN MOONLIGHT
Winner of the AHS Honorable Mention in 2014
DSP
(DOUGLAS, 2009)
Tetraploid 5 ½", SEV, M-Re, 27", 22 buds, 3-4 way branching.
(Ferengi Gold x Ed Brown) x Victorian Lace)
This cross has produced a wider variety of keepers than any cross I have ever made. WRAPPED IN MOONLIGHT is a cream yellow with a light peach cast. It has a bright yellow metallic ruffled edge and a matching yellow throat with a small green heart. This triangular daylily is heavily diamond dusted and slightly fragrant. Fertile both ways.