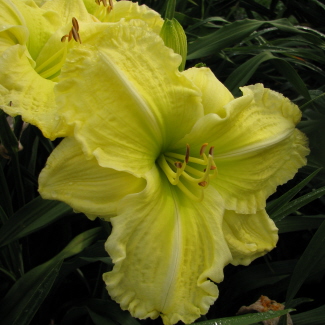 CAROLINA LEMON SQUEEZER

(G. TANNER, 2010)
DIP, 7", DOR, EM-Re, 27", 15 buds, 3 way branching
(LEMON LIME RADIANCE X CARRIBEAN WHIPPED CREAM)
Ruffled butter yellow with pronounced cream midribs. The bloom has a seersucker texture which is stunning on such a large flower. Deeper yellow center going to a small green throat.
Fertile both ways.