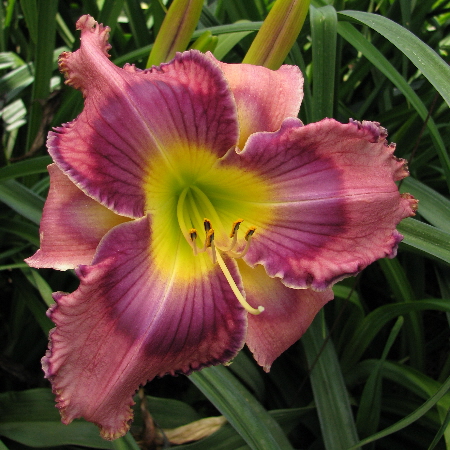 CAROLINA PANSY FACE

C. Douglas '12,
Tet, 6 ½", Sev, M-Re, 34", 23 buds, 3-4 way branching
(A GATHERING OF ANGELS X MILDRED MITCHELL)
Not as round and ruffled as most of my things, but striking none the less. Nice large blooms on tall scapes with a purple pansy eye and matching edge. Mauve pink petals and a beautiful yellow to green throat which extends onto the sepals. The darker purple pencil edge around the eye also extends onto the sepals giving it a very symmetrical look. Pinched petals and purple trimmed ruffles finish it off. Fertile both ways.