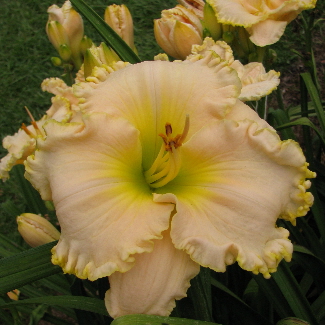 CLARKS CREEK
$20 DF Last Chance!!
(G. TANNER, 2011)
Tet, 6 ¼", Sev, M-Re, 33", 18 buds, 3-way branching
(GILDED SHADOWS X VICTORIAN LACE)
This tall large showy flower is a cream with a light peach blush. The yellow ruffled edge matches the yellow to green throat. Yellow veining radiates from the throat. Wide overlapping petals and heavy substance give it its round shape. Makes big fans. Fertile both ways.