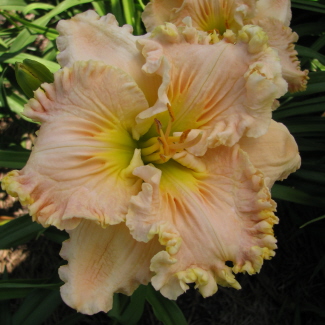 FAIRY TALE ROMANCE

(DOUGLAS, 2010)
Tet, 5 ½", EVR, M-Re, 24", 12 buds, 2 way branching
((Ferengi Gold x Ed Brown) x Victorian Lace)
This pale pink with cream undertones has so much going on with sculpting and teeth! Diamond dusted with a yellow ruffled edge. Fairy Tale Romance will pass the sculpting and teeth to its babies, but this is definitely a hybridizer's plant. With only 12 buds it's not the great garden plant we are use to introducing, but so many people wanted to add it to their programs we had to give in.