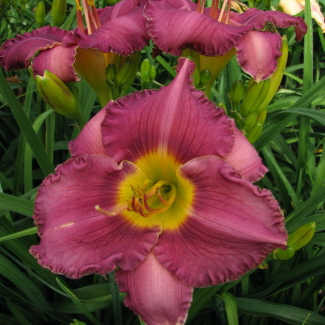 FIRST TRY

(H. DOUGLAS, 2010)
Tet, 5", SEV, M-Re, 32", 20 buds, 4 way branching
(BELA LUGOSI X SPACECOAST STARBURST)
The first seedling to bloom from the first cross I ever made in my Cincinnati garden. First Try is a rose purple with a slightly darker halo over a yellow to green throat. The petals are wide and slightly ruffled. The bloom sits on tall well branched husky scapes and the plant makes big fans. Fertile both ways.