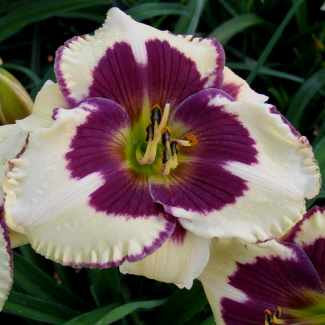 LUCKY LUCY


Douglas '08

TETRAPLOID 5 ¾", Sev, E-Re, 28", 24 buds, 5 way branching.
((Regal Eye x (Bengal Bay x Tet Lavender Blue Baby)) x Celebration of Angels)

Cream with a large bright grape purple eye and edge with inward streaks that fade into the green throuat. Standout color combination in the garden. Chosen and named by a dear daylily friend, Lucille Cook Coker, who helped in the garden for many years and surprised all of us by coming back from a sever illness. Fertile both ways.