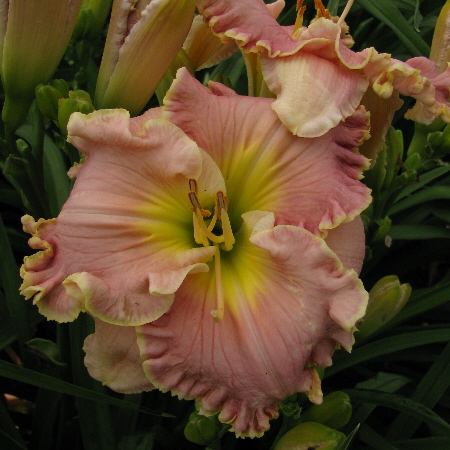 MISS MARIE
$20 DF Last Chance!!
C. Douglas '13
Tet, 5 1/2", Dor, M-Re, 26", 20 buds, 3 way branching, frag
(SYMPHONY OF PRAISE X WONDER OF IT ALL)
This flower is named for Miss Marie Parsons, a very dear friend and Charles' adopted mom. She loves daylilies and has always watched after Charles. She just celebrated her 85th birthday and we are proud to name such a beautiful flower in her honor. Medium pink with a lavender blush, Wide petals with a small halo, cream yellow heavily ruffled edge and sculpting around a bright yellow to green throat. Fertile both ways.