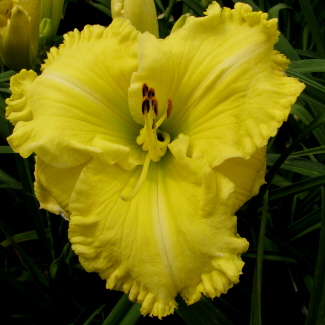 NEON SUNSHINE

(DOUGLAS, 2010)
Tet, 6", SEV, EM-Re, 27", 20 buds, 3 way branching
(Stone Beacon x Lemon Parchment)
No, it doesn't glow in the dark, but this is one of the brightest clean yellows we have seen. Darker yellow veining and edge, cream midribs and a small green throat. The blooms sit nicely above the foliage and the branching is spaced well so that the flowers do not crowd one another.
Fertile both ways.