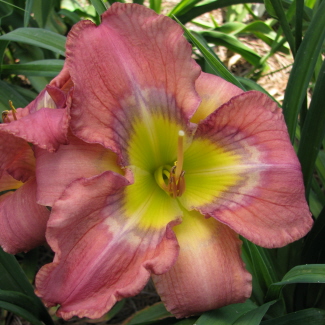 RIBBONS OF COLOR

(H. DOUGLAS, 2010)
Tet, 5 ¼", SEV, E-Re, 30", 24 buds, 4 way branching
(SEEDLING X THROUGH THE LOOKING GLASS)
Mauve pink petals give this patterned daylily an ethereal look. Large green throat extends far out and is immediately surrounded by the patterned eye which resembles a ring with broken colors throughout, early in the season. On rebloom later in the season the pattern changes and the rings of color are not so prominent. The pattern can be seen on the sepals which is a plus for pattern breeding. Fertile both ways.