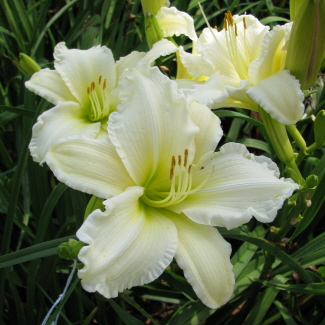 TIP OF THE ICEBERG
Winner of the AHS Honorable Mention in 2014

(H. DOUGLAS, 2010)
Dip, 5", DOR, M-Re, 26", 18 buds, 2 way branching
(INDIAN GIVER X PARTY PINAFORE)
A stunning white flower with an old fashioned triangular form. Slightly ruffled with diamond dusting and a yellow throat, this flower was a real surprise when it bloomed in the seedling bed, since there is no white in its parentage. Indian Giver throws white seedlings quite often and this was the best of them. Fertile both ways.