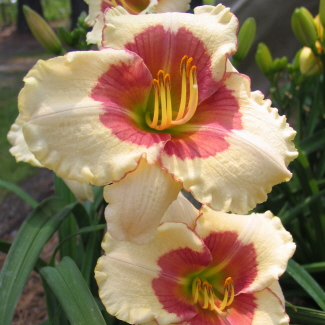 MY LIPS ARE SEALED

Winner of the AHS Honorable Mention in 2009


(DOUGLAS, 2004)

TETRAPLOID, 4 1/2" BLOOM, SEV FOLIAGE, M-RE, 22" SCAPES
(TRIMMER SEEDLING X CELEBRATION OF ANGELS)

CREAM WITH LARGE LAYERED ROSE RED EYE, SMALL ROSE RED PICOTEE AND CHARTREUSE GREEN THROAT. THE INTERESTING EYEZONE HAS DARKER ROSE RED VEINING IN THE OUTER LAYER. THIS WAS A DEFINITE REGISTRATION FROM THE VERY FIRST BLOOMS. IT WAS A DEFINITE FAVORITE AMONG GARDEN VISITORS. MY LIPS ARE SEALED HAS EXCELLENT PLANT HABITS IN EVERY CATEGORY INCLUDING HEALTHY FOLIAGE THAT MULTIPLIES NICELY. EXTRA LONG BLOOM AND REBLOOM WITH 28 BUDS ON 4 WAY BRANCHING. EARLY MORNING OPENER. THE TRIMMER SEEDLING POD PARENT WAS A SIB TO MONTERREY JACK THAT DAN DID NOT INTRODUCE BUT WAS NICE ENOUGH TO LET ME USE. FERTILE BOTH WAYS. LIMITED SUPPLY.